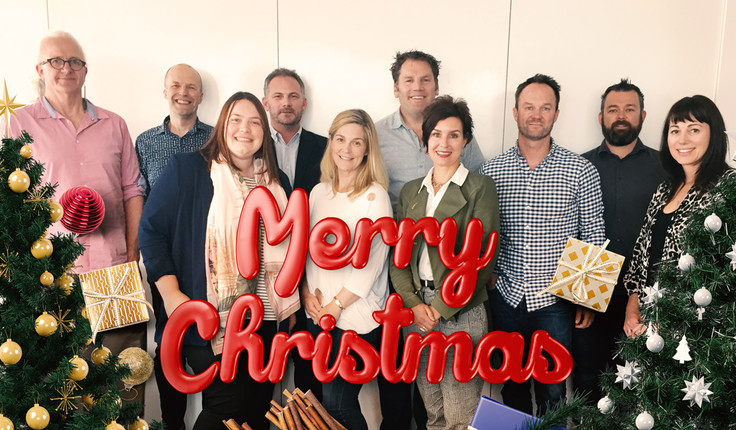 2017 has been a busy year for the NZILA team
Merry Christmas Everyone!

We hope you've had an enjoyable and profitable year, and for those who have had a few knocks recently, that you are recovering well.
2017 has been a busy year for the NZILA team. Here's a quick snapshot of the major items that has been delivered:
New NZILA website in January, followed by a new Landscape Architecture Aotearoa website in December
The appointment of a content curator to help us manage these websites, and our social media platforms
The development of a number of showcase videos of member's work (with more to follow)
A very successful, well attended, and profitable Wellington conference and Awards evening
Extensive planning for a huge 2018 Conference in Auckland and the appointment of a nationally based conference manager to help deliver it
12 professionally run workshops on the Project Landscape Assessment Methodology (Project LAM)
Continuation of our archives project, and sorting out of the mass of files going back 43 years
A suite of new registered members, and ongoing review of our registration programme
Preliminary review of how we govern ourselves
Likely end of year surplus (profit), the 6th year in a row, on the back of a budget that forecast a loss
Delivering these things requires the efforts of a wide range of people – thank you to everyone who has contributed to our ongoing development.
Next year will see the continuation and expansion of many of these projects as we continue to find ways to showcase the profession and enhance your reputation as landscape architects. I provide below a quick overview of some of these important projects.
2018 Conference, 2019 Festival of Landscape Architecture & Travelling Workshops
We're trying to make our conferences bigger and better than ever. We want these to be the go-to event for our members, where there are opportunities for engaging with internationally renowned speakers on topics that are relevant to a wide range of audiences. The 2018 NZILA Firth conference, City Tāone, features engaging speakers from Atlanta, Virginia, Copenhagen, Australia and New Zealand, curated into four significant topics aimed at promoting debate and discussion. And we've lined up one of Auckland's top downtown venue for an evening of social interaction and fun.
Looking beyond Auckland – we're working with the Australian Institute to deliver a massive joint Festival of Landscape Architecture in Christchurch in 2019, designed to showcase the new city. Our goal is big, we want to take over the city for a week – or more – and celebrate everything that our profession has to offer! More details will follow next year.
And we don't want to lose the power of small. We recognise that many people enjoy the smaller, more interactive style workshop conferences, so we're looking at how we might start to roll out roadshow-type events that come to you. Project LAM kicked this off to some extent, and we see more opportunities to keep these important professional conversations happening. We're working towards the first series to take place in 2019.
Websites and Media
In 2017 we delivered not one, but two huge websites for the institute. The first, www.nzila.co.nz is aimed at serving members. It provides a showcase of member work, news related to the profession, and a variety of member services such as CPD, registration, conference details, etc.
The second website, www.landscapearchitecture.nz, just recently launched, is the brainchild of our COO, Vicki. It's aimed at profiling the profession of landscape architecture and is designed to promote member discussion and opinion, with a heavy focus on people. Although published by us, it's designed to stand alone from the NZILA brand allowing people the freedom to say what they think rather than it being the voice of the collective group. It will continue to evolve and develop, but we hope it will become one of the most important repositories for landscape architecture related opinion in New Zealand, if not globally. It's already received international acclaim.
The content on both websites will continue to build. Our new curator team ('Blame the Media') are hungry for stories and editorial content, with more videos in the pipeline to showcase members and their work. All material is pushed out to the world through our social media channels, which are growing daily.
If you want to be featured, get in contact and the team will do the rest.
Project LAM
Over 120 people engaged in the Project LAM workshops held across the country in November. The feedback was overwhelmingly positive - you want NZILA to progress the development of the Best Practice Guidelines, and you want more opportunities to contribute to their development. In the coming weeks, we'll work on shaping the next stage of the project, with the aim of moving key initiatives forward during 2018.
I can also say that we're fully engaged with Government Agencies, and I'll continue to push them to commit to funding and widespread endorsement of what we come up with. I'll keep you posted on progress.
Governance Review
During the year we started reviewing how we govern ourselves. We're now a sizeable organisation, with a number of permanent, paid contractor positions, a growing membership, and growing demands from everyone who interacts with us. We need to consider how best we work together, and how we best communicate.
To this end, we've appointed a specialist governance consultant who is helping us look at our overall structure – not just the Executive Committee, but also the role and function of branches, the roles of various registrars and working committees, and how we best enable our paid team to deliver more benefit to our members. Towards the end of January 2018 we'll be asking you about how you see the Institute developing, and how you think we could better serve you as members. All the feedback we receive will be drawn into a draft report from our consultant, setting out recommendations for our future structure, method of communication, and what changes we might need to make to our constitution.
We aim to present the consultant's report at the AGM in April for discussion, together with some recommended first steps that we'd like to work through during the year for adoption at the 2019 AGM. I encourage you to give some thought to this matter over the coming weeks, and to contribute as much as you can when we get in touch early in the new year.
The Day to Day
I've talked about the big projects, but I suspect few of you will know just how much happens within NZILA on a day to day basis. Vicki and the team handle over 100 emails a day to the Institute, collaborate with 40+ suppliers and co-ordinate the work of over 50 people who currently volunteer time to Institute matters.
NZILA is growing. Not just in numbers, but in profile, recognition and importance. We're on a great trajectory, and I'm really excited about our future.
With that, have a fantastic Christmas, a well deserved break, and I look forward to more great things in 2018.
Ngā mihi
Shannon Bray, President & NZILA Executive Committee

The NZILA office will close on Friday 22nd December and reopen on Monday 15th January 2018.