Events Calendar
IFLA 2020 World Congress - Call for submission open until 17 Jan 2020
5 Nov 2019, Penang, Malaysia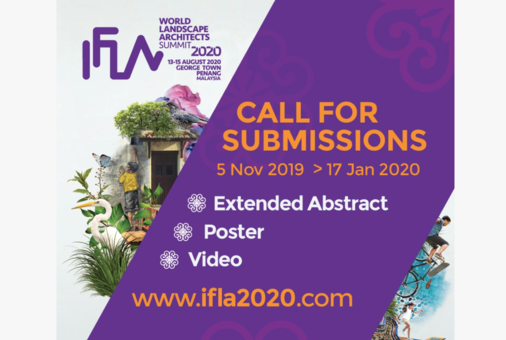 Calling for submission is now open until 17 January 2020
The IFLA2020 World Congress will be held in Georgetown, Penang, Malaysia from 13th until 15th of August 2020. It is a great global platform that brings together landscape architects and those from related industries and academia to exchange knowledge and expertise in improving the built environment within the natural systems.
The IFLA2020 World Congress is proud to invite esteemed professionals, government agencies, academics, researchers, NGOs, and students to present their latest projects, achievements, findings, policies, community engagements and others. Presenters shall share how their projects, research or initiatives solve issues related to any of the four sub-themes under the theme: Future Tense.
For all enquiries please visit website.